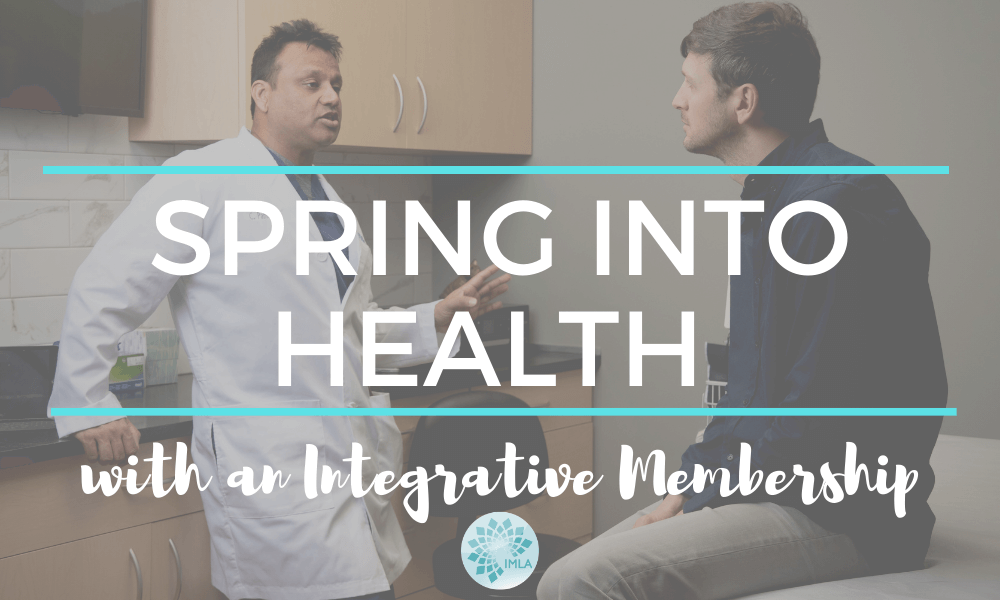 Spring into Health with our Membership Model
March 16, 2020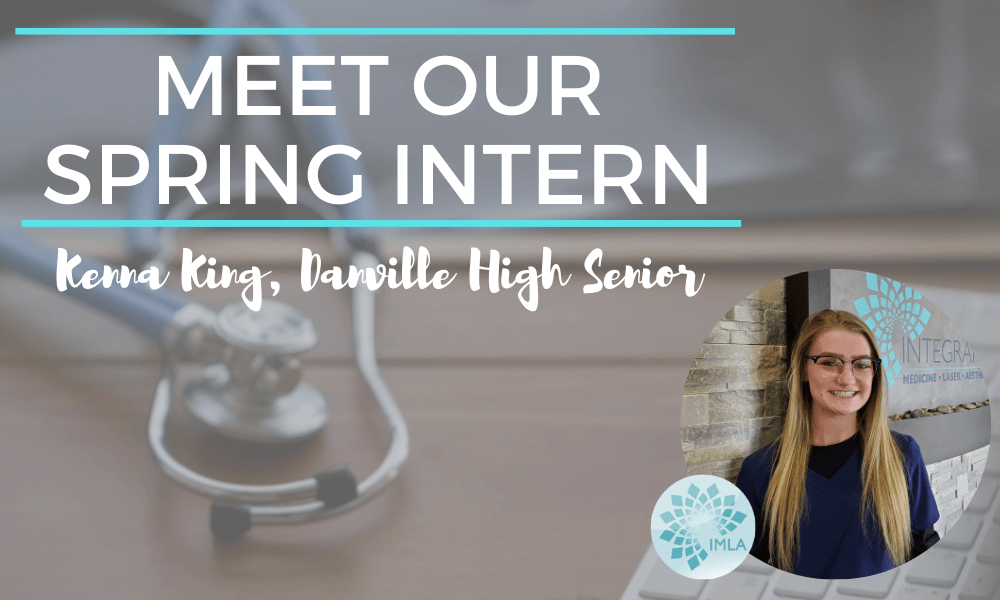 Meet our Student Intern: Kenna King
March 26, 2020
Integrative Medicine, Laser and Aesthetics is Open: FAQs during Stay at Home Order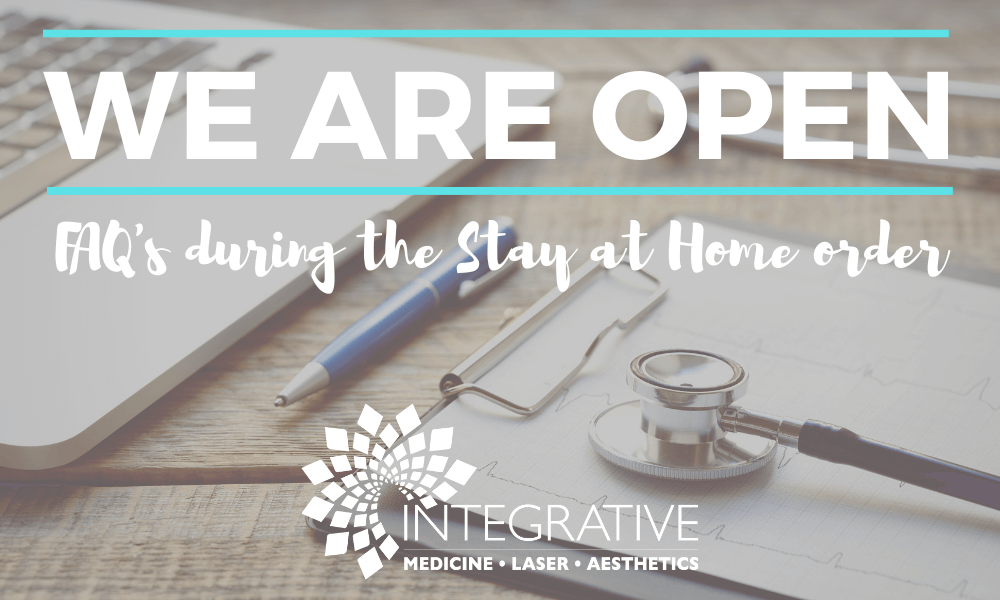 Stay at Home FAQ
Are you open?
Yes. Because we are a medical practice, we are considered to be an essential business. We will stay open to be available to our patients and our community for as long as we are allowed. We have committed to remain on call 7 days a week to be available whenever you may need us while you stay at home.
UPDATE: Learn more about how Integrative Medicine, Laser and Aesthetics fits into Governor Holcomb's "Back on Track" plan for the reopening of Indiana.
What kinds of problems can you take care of?
Our staff has many years of experience in emergency medicine and urgent care. Patients can still suffer from conditions that are not related to viral infections. These can include lacerations, vomiting/diarrhea, dehydration, twisted ankles, fractures, back pain, muscle strains, asthma, urinary tract infections, ear infections, strep throat, skin rashes/infections, migraine headaches, bacterial infections and much more.
For your treatment, we can perform IV hydration, laceration repair, abscess drainage, splinting, IV/IM medications and more.
Do you offer telemedicine? How does it work?
To help alleviate concerns with travel we do offer telemedicine appointments while you stay at home. We would be happy to see you in the office, or we can discuss your medical needs via a secure video call. The video link will be provided by our office when you make an appointment and is HIPAA compliant. We will also continue to offer telemedicine as the state reopens and beyond.
Are you wearing masks?
Of course. All providers have masks that are designed to reduce transmission of airborne droplets. We also have a strong supply of level 1 surgical masks for our patients to wear while here.
Do you have infection control policies in place?
We have always had infection control policies in place as a standard practice. However, with the rise of positive COVID-19 cases, we re-evaluated our policies and compared them to the CDC recommendations. We found that our practices exceed the recommendations of the CDC. This includes proper cleaning of rooms, equipment and common surfaces with commercial cleaning supplies. We also utilize commercial anti-fungals, and virucides to disinfect those same surfaces after each patient and nightly. We also have a professional cleaning service that follows the CDC recommendations.
Do you do COVID-19 Testing?
EDIT 5/13/2020: Integrative Medicine, Laser and Aesthetics is proud to announce that we now have the ability to perform COVID-19 antibody testing in our West Carmel office as of May 13. Our COVID-19 antibody (IgG and IgM) testing will use a blood sample to determine if you have created antibodies against SARS-CoV-2 (the virus that causes COVID-19). The FDA-approved test uses Roche testing technology and you will receive your results within 48-72 hours. Learn more on our blog post.
How can I get my usual supplements and skin care products?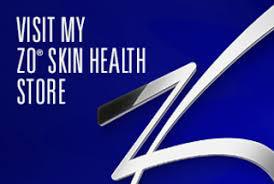 You can order your regular supplements and ZO skin care products right to your door if you are staying at home! Order your supplements via Fullscript under the Integrative Medicine Laser and Aesthetics account and gain access to our discounted database of quality, supplements hand-selected by CJ Pabla, MD delivered right to your door.
Our ZO Skin Health products are also available for purchase online. By providing comprehensive skincare programs for physicians and their patients, ZO Skin Health bridges the gap between therapeutic treatments and daily care, allowing patients to experience continuously healthy skin regardless of their age, ethnicity or unique skin condition.
Do I need to already be a patient to use your urgent care services?
No. Anyone can access our services. If you're not already a patient, it may take a few more moments to gather your demographic information, but otherwise you will be seen quickly and efficiently.
Do you take my insurance?
Most patients have high deductible health plans with copays and health savings accounts (HSAs). You can use your HSA with us, but we do not bill insurance. As a practice, we have opted out of most insurance carriers but still keep our prices very comparable (or less) than most other urgent care centers in our area.
We also offer a membership model to help stretch your healthcare dollars even further. We have three packages that include regular visits, discounted services, preferred scheduling and more.
Are you still doing aesthetics treatments?
We are. Many patients in our practice get aesthetic services to address underlying conditions. Since these are supervised by a physician, we consider these to be a part of most patients' medical care. It's our understanding that patients can leave their homes to access this care.