Looking for a Trusted Comprehensive Approach to Functional Medicine in the Indianapolis Area?
Meet Integrative Medicine, Laser and Aesthetics in Carmel, Indiana
Frustrated with being sick and tired? Is your body's "check engine light" continually flashing? As an Indianapolis area functional medicine practice, Integrative Medicine, Laser and Aesthetics of Carmel, Indiana, and the Dr. CJ Pabla team focus on whole-body health with an integrative systems-oriented approach to medicine. Why just treat chronic symptoms when getting to the root of an illness works so much better?
Our comprehensive approach addresses the full range of physical, emotional, mental, social, spiritual and environmental factors that influence a person's health. We often see clients with chronic issues who haven't been getting better with traditional treatments. Additionally, we carry our integrative and functional medicine approach into our aesthetics division with innovative laser skin therapies, as well as, treatment of acne, rosacea and other skin conditions.
Ready to get your quality of life back? We serve Carmel, Zionsville, Indianapolis and surrounding areas.
Meet Dr. CJ Pabla, M.D., Dr. Jason Amich, DHSc, MBA, and Licensed Medical Aesthetician, Tess Clingerman.
The highest standard of health care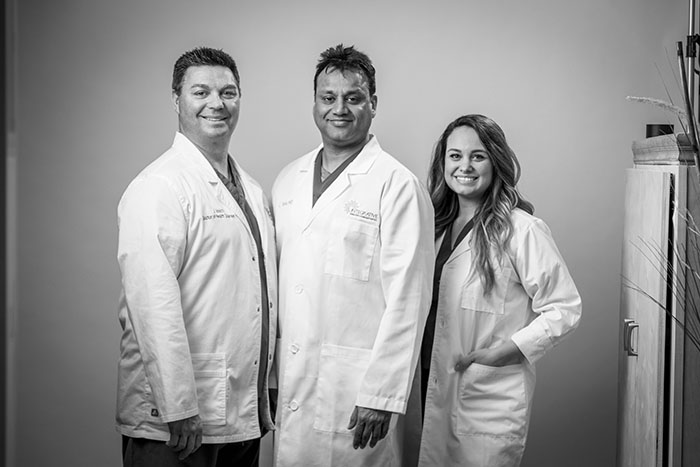 Welcome to Our Functional Medicine Practice:
Integrative Medicine, Laser and Aesthetics in Carmel Indiana is proud to be an Indianapolis area patient-focused innovative functional medicine and aesthetics practice. We often see clients with chronic issues that haven't been getting better with traditional treatments. We are committed to an integrative systems-oriented approach for total body health, inside and out.
Learn about our integrative systems-oriented approach to whole-body health.
Prefer a Telemedicine Appointment? We can help!
Best group dedicated to the needs of their patients! Absolutely love the staff and very pleased with the results.

Dr. Pabla and Dr. Amich are both very accommodating and spend much more time talking through everything than any other doctor I have seen. Holistic approach to medicine vs recommending you pop a pill. Would happily recommend to family and friends (and have).

Very professional and knowledgeable every visit! So happy it's close to Zionsville!

Dr. Pabla is simply OUTSTANDING! At my initial appointment, Dr. Pabla spent 2 hours explaining critical and complex body chemistry information concerning a problem I have had for 40 years! When is the last time you have heard of that? Finding Dr. Pabla is one of the best things that has ever happened to me, and I am forever grateful for being one of his lucky patients.

There's a genuine peace when you walk through the doors of this office! Dr. Pabla and Jason have such a passion to get to know and truly help their patients become healthy just as God intended us to be! They spend as much time as it takes to get to the root cause of your symptoms. Their caring hearts and medical wisdom will blow you away! Someone shared this practice with us and we highly recommend!

Excellent diagnostics. I want to feel better without drugs. Did the IV infusion of vitamins today. Was great.

Tess was so great! I always leave feeling great!

Dr. Pabla has helped to identify my food sensitivities and allergies that were causing my gut issues! With supplements and dietary changes, I feel so much better. I am extremely grateful for his help!!

My recent experience at Integrative Medicine was wonderful. (sigh....) I had a chemical peel and derma planning - a whole glorious hour of being pampered. I highly recommend Tess, if you want to treat yourself or a friend to a peaceful, luxurious hour!

After years of digestion issues and multiple failed attempts by doctors, I was referred to Dr. Pabla. After 3 months of direction and instruction from Dr. Pabla and Dr. Jason, my body was able to process and function in a way that I had forgotten was possible! Thank you!!!!

Great professional establishment. I encourage anyone to use these services.

Dr Pabla & Amich are the best treating & understanding whole body health.

Dr Pabla patiently & clearly taught me 3 really critical things about Thyroid that I had never heard or read after taking Thyroid supplements for more than 30 years!!! He is truly interested in the science & real world application modern medicine. And takes as much TIME as necessary to make sure you understands what COUNTS so he can help you become healthier. He is what we all hope a Dr should be - but rarely encounter these days! I STRONGLY recommend him.

Super friendly staff and great service. I'm looking forward to going back and spending time getting zapped again.

So grateful to Dr. Pabla, and his staff for helping me figure out my health issues. They have given a plan and resources to help me feel better, and take control of my health instead being controlled by it!!

Dr. Pabla and his staff always go out of their way to give personal and professional attention to their patients. I feel like they truly care about my healing. They are always available to answer questions and make recommendations. They have been instrumental in designing a plan that has resulted in a overall improvement in my state of health.

Always professional, friendly and does a great job on my Lash Lift!

My sister was diagnosed with cancer in January this year. Stage 4 primary lung, metastatic to the brain, liver, bones and pelvic. She started to see Dr. Pabla shortly after. He and Dr. Jason Amich are by far the most informative and caring doctors I have ever had the pleasure of meeting. They both care deeply for my sister and the feelings are mutual for her and my family. The whole staff here are awesome and truly care about their patients. Please give them a call to see if they can help you, trust me, you won't regret it.

Jason was very informed & gave me excellent feedback, patiently answering my numerous questions. Immediately followed up with email on info I requested.

After years, literal years, of trying to find out what was going on with my health I found Dr. P - he saved my life! He took the time to listen, understand and discuss my past, present and future. He did what many others never did - found answers, found a way for me to feel better and get on the road to healing. There is no way for me to give him enough kudos and thanks for saving my life!

I absolutely love Dr. Pabla! He took the time to get background on my health history and I was amazed at how much he knew about me before we even got started. His medical knowledge and experience is incredible and I really appreciated his desire to discover the root causes to health issues. He is very personable and takes the time to get to know you. I like being able to order supplements through his website fullscripts.com. I also like the urgent care visits when we need to see him quickly. He has been very responsive to me and my family. I am so thankful to have a functional medicine doctor like him in the area!

Dr. Pabla is an amazing physician and person. He provides incredibly thorough assessments and plans that are highly individualized. He truly wants to make a difference and, for me, he certainly has.

Dr. Pabla spent just over an hour with me! Unheard of these days! He took the time to hear me out, mapped out my whole history and put together an amazingly detailed action plan. I've already seen results. I'm telling all of my friends about Dr. Pabla and his team.

Dr was available immediately and the process was very efficient! I highly recommend this process and Dr Pabla.

It was an online appointment due to Covid-19, but Dr. Pabla was very easy to speak with and thorough with his analysis and recommendation.

Very friendly and easy to talk to!

My wife and I had a wonderful visit. One of the best parts is the time he spent with us. We never felt rushed. Dr. Pabla and his team are extremely knowledgeable and strive to find the root cause of your health concerns. I highly recommend going to see Dr. Pabla and his team. You won't be disappointed.

If you want a medical professional that truly listens and cares about your well-being, Dr. Pabla is your choice. Dr. Pabla didn't just treat my symptoms, he found the root cause and took his time to educate me on lifestyle changes that I would need to make. The decision to schedule an appointment at IMLA, and visit Dr. Pabla has changed my life forever. Forever grateful!

Dr. Pabla genuinely cares about his patients. His knowledge, experience and support have given me the tools necessary to live a healthy and happy life.

I found the staff very friendly and helpful. Dr Pabla was very thorough. He really educated me on what I had going and put things in terms that were easy to understand. Dr. Pabla developed a plan for me based on my body chemistry and how it handles different foods. I have already recommended him to several friends.

Everyone at Integrative goes above and beyond! Dr. Pabla truly cares about his patients and takes all the time needed to really help, not just apply a band-aid and send you on your way. Cannot recommend Dr. Pabla, Dr. Amich or Tess and their services enough!

Dr. Pabla and Dr. Amich are extremely knowledgeable physician's with diverse backgrounds, which enables them to treat any condition/diagnosis with extreme expertise. Excellent bedside manner, excellent follow up, attention to detail, no wait on scheduling appointments, friendly nursing staff, clean comfortable environment. Patient focused results! These physician's truly care about the health and well being of their patients!! They want to improve your quality of life!

Dr. Pabla saw my daughter concerning her autoimmune disorder, and she is doing better since our visit. I was impressed by the amount of time he put into researching the condition prior to our appointment, and he was able to answer our questions in detail, helping to put our minds at ease. His knowledge of her condition, and the recommendations that he made, have made a real difference in her therapy.

This practice is amazing. They work to find the cause of your illness rather than treat the symptoms. I'm the healthiest I've ever been. More importantly, my son is the healthiest he's ever been. My son was having serious problems with a weak immune system, migraines and a few other chronic issues. His immune system is greatly improved and he hasn't had a migraine since following the detailed plan created for him by this practice. I'm so glad we started working with them almost about 9 months ago. We don't fear the Coronavirus as much in my house because we know we have immune systems that can handle it. Additionally, I lost almost 40 lbs. and my chronic fatigue is gone. They helped me correct underlying health issues that corrected both problems. Overall, I'm extremely pleased. And more importantly, I'm totally rocking my skinny jeans!

My facial was sooo relaxing! This office has a very comfortable atmosphere- lots of good vibes. Tess was very professional, thorough and personable. You can tell the staff has a good relationship with one another. Will definitely return!

I can't say enough good things about Dr Pabla and his staff. They are very kind and caring and professional. Dr Pabla's knowledge and sincere desire to get to the root of problems and not just treat symptoms is uncommon and unsurpassed. He has helped our family and friends deal with challenging health issues and his manner is engaging, caring and supportive. I highly recommend Dr Pabla and his staff!
6-Months No Interest Financing Available through