Laser, Aesthetic Services and Skincare Treatments at Integrative Medicine, Laser and Aesthetics
At Integrative Medicine, Laser and Aesthetics in Carmel, we work with each of our Indianapolis area patients to provide them with individualized aesthetic services and wellness plans to treat chronic conditions. Our providers, Dr. CJ Pabla, MD and Dr. Jason provide patients with comprehensive skin assessments and care that includes advanced therapies for acne, rosacea, scarring, melasma, sun damage, and more.
We recommend scheduling a consultation for a custom aesthetic services skincare plan that is tailored to your experience and works specifically for your needs and concerns. Our plans can assist in the treatment of ailments not only within the body, but also on the outside. Because your skin is the largest organ in your body, let us assist you in caring for it.
For your tailored skincare plan, we will examine a variety of factors, including cost, accessibility of products and services, the patient's schedule and lifestyle, the patient's expectations, and a realistic timeline to see results.
Furthermore, we will coordinate any skincare actions with your integrative wellness plan and assess any treatments or labs you have with our doctors. Your plan will include both a regimen to follow at home and potential office services.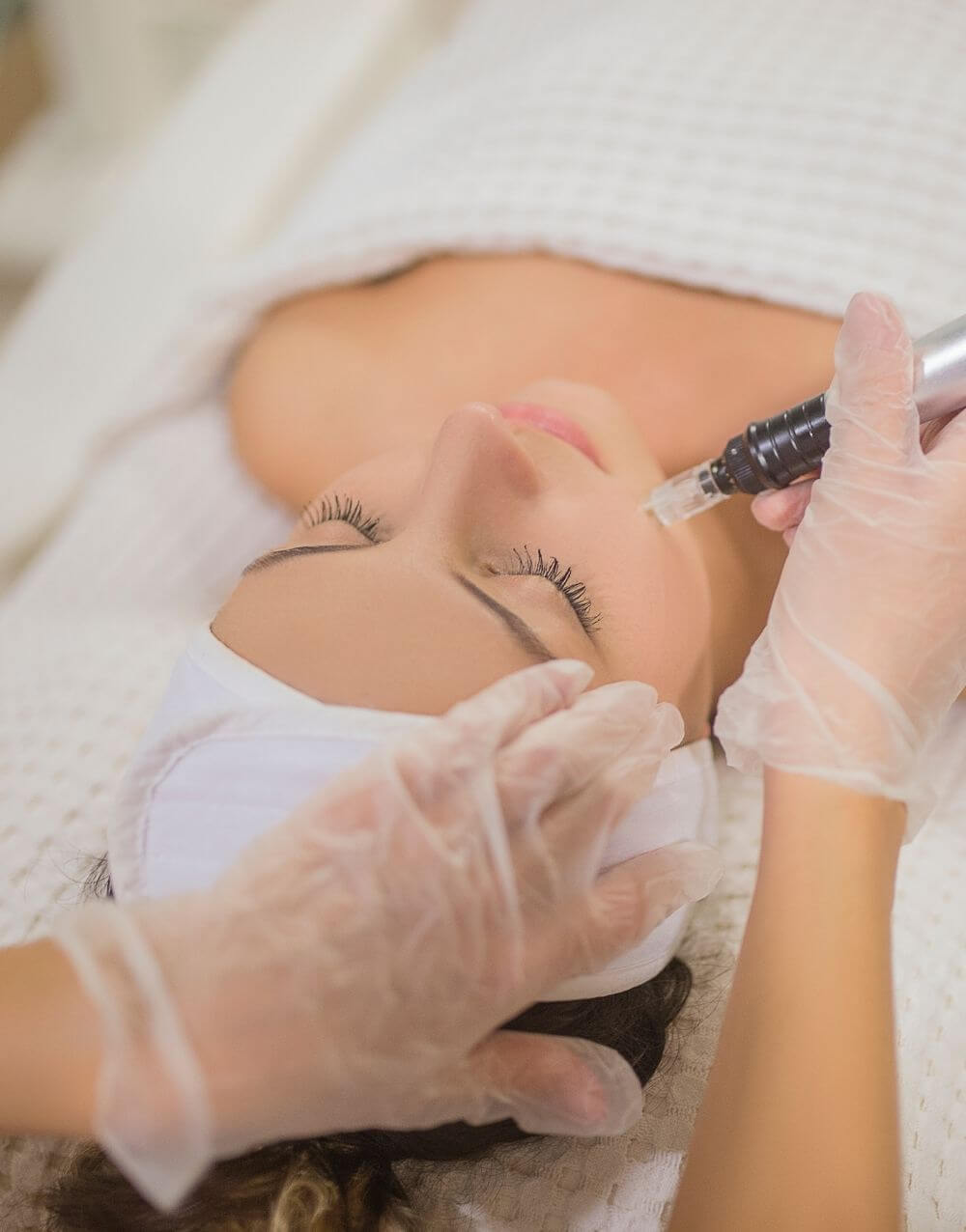 I came to Integrative because my chronic allergies haven't improved with traditional treatments. I'm impressed with Dr. Pabla's comprehensive knowledge, meticulous feedback regarding my condition, and professionalism. I believe that my allergy situation will ameliorate dramatically under his guidance. Thank you, Dr. Pabla!

Dr. Pabla and his staff always go out of their way to give personal and professional attention to their patients. I feel like they truly care about my healing. They are always available to answer questions and make recommendations. They have been instrumental in designing a plan that has resulted in an overall improvement in my state of health.

If you want a medical professional that truly listens and cares about your well-being, Dr. Pabla is your choice. Dr. Pabla didn't just treat my symptoms, he found the root cause and took his time to educate me on lifestyle changes that I would need to make. The decision to schedule an appointment at IMLA, and visit Dr. Pabla has changed my life forever. Forever grateful!

We are so thankful for Dr. Pabla and his staff at Integrative MLA. Two of my daughters needed to be seen on short notice and Dr. Pabla's office was able to fit them in and help them out tremendously with the correct diagnosis and action plan. When other doctors have wanted to give my children strong medications with side effects, Dr. Pabla came up with better, holistic recommendations that helped their bodies heal without the side effects of prescription drugs. Dr. Pabla and his staff spend lots of time with each patient to ensure that they fully understand what's going on and develop the most comprehensive and helpful plan - leading to better health and actual results. I would highly recommend Integrative MLA for all your medical needs - they are extremely knowledgeable, helpful and take excellent care of their patients every time!

Very friendly staff and professional. Clean and modern decor. Would recommend to all. They have the very accurate COVID-19 antibody testing here by Roche diagnostics 99.8% accurate. This is the preferred test.

My facial was sooo relaxing! This office has a very comfortable atmosphere- lots of good vibes. Tess was very professional, thorough and personable. You can tell the staff has a good relationship with one another. Will definitely return!

It was an online appointment due to Covid-19, but Dr. Pabla was very easy to speak with and thorough with his analysis and recommendation.

After years, literal years, of trying to find out what was going on with my health I found Dr. P - he saved my life! He took the time to listen, understand and discuss my past, present and future. He did what many others never did - found answers, found a way for me to feel better and get on the road to healing. There is no way for me to give him enough kudos and thanks for saving my life!

Dr. Pabla spent just over an hour with me! Unheard of these days! He took the time to hear me out, mapped out my whole history and put together an amazingly detailed action plan. I've already seen results. I'm telling all of my friends about Dr. Pabla and his team.

Dr. Pabla saw my daughter concerning her autoimmune disorder, and she is doing better since our visit. I was impressed by the amount of time he put into researching the condition prior to our appointment, and he was able to answer our questions in detail, helping to put our minds at ease. His knowledge of her condition, and the recommendations that he made, have made a real difference in her therapy.

Dr. Pabla is truly a gift! I have been working with him for about 2.5 years to improve my overall health and food choices. These changes have allowed me to get off my medication before it caused other problems (this process requires patience). I have been off my medication for 4 months now. I am so thankful to him for his commitment to helping people find the root cause of their health problems and not just put a band-aid on a problem (in the form of a pill). Dr. Pabla cares, listens and explains the problem in an easy to understand manner. He and his staff are a tremendous blessing to our family! We love and trust him so much that we are entrusting our daughter into his care. If you are tired of pill pushers, committed to improving your health and are willing to do the work, then Dr. Pabla and his clinic are the way to accomplish this goal! His expertise is worth any drive you might have to make.

My sister was diagnosed with cancer in January this year. Stage 4 primary lung, metastatic to the brain, liver, bones and pelvic. She started to see Dr. Pabla shortly after. He and Dr. Jason Amich are by far the most informative and caring doctors I have ever had the pleasure of meeting. They both care deeply for my sister and the feelings are mutual for her and my family. The whole staff here are awesome and truly care about their patients. Please give them a call to see if they can help you, trust me, you won't regret it.

Dr. Pabla and Dr. Amich are extremely knowledgeable physician's with diverse backgrounds, which enables them to treat any condition/diagnosis with extreme expertise. Excellent bedside manner, excellent follow up, attention to detail, no wait on scheduling appointments, friendly nursing staff, clean comfortable environment. These physicians truly care about the health and well being of their patients!! 

Dr Pabla patiently & clearly taught me 3 really critical things about Thyroid that I had never heard or read after taking Thyroid supplements for more than 30 years!!! He is truly interested in the science & real world application modern medicine. And takes as much TIME as necessary to make sure you understands what COUNTS so he can help you become healthier. He is what we all hope a Dr should be - but rarely encounter these days! I STRONGLY recommend him.

So grateful to Dr. Pabla, and his staff for helping me figure out my health issues. They have given a plan and resources to help me feel better, and take control of my health instead being controlled by it!!

This practice is amazing. They work to find the cause of your illness rather than treat the symptoms. I'm the healthiest I've ever been. More importantly, my son is the healthiest he's ever been. My son was having serious problems with a weak immune system, migraines and a few other chronic issues. His immune system is greatly improved and he hasn't had a migraine since following the detailed plan created for him by this practice. I'm so glad we started working with them almost about 9 months ago. We don't fear the Coronavirus as much in my house because we know we have immune systems that can handle it. Additionally, I lost almost 40 lbs. and my chronic fatigue is gone. They helped me correct underlying health issues that corrected both problems. Overall, I'm extremely pleased. And more importantly, I'm totally rocking my skinny jeans!

My recent experience at Integrative Medicine was wonderful. I had a chemical peel and dermaplaning - a whole glorious hour of being pampered. I highly recommend Tess, if you want to treat yourself or a friend to a peaceful, luxurious hour!

After years of digestion issues and multiple failed attempts by doctors, I was referred to Dr. Pabla. After 3 months of direction and instruction from Dr. Pabla and Dr. Jason, my body was able to process and function in a way that I had forgotten was possible! Thank you!!!!

My wife and I had a wonderful visit. One of the best parts is the time he spent with us. We never felt rushed. Dr. Pabla and his team are extremely knowledgeable and strive to find the root cause of your health concerns. I highly recommend going to see Dr. Pabla and his team. You won't be disappointed.

Dr. Pabla and Dr. Amich are both very accommodating and spend much more time talking through everything than any other doctor I have seen. Holistic approach to medicine vs recommending you pop a pill. Would happily recommend to family and friends (and have).

I came to Integrative because my chronic allergies haven't improved with traditional treatments. I'm impressed with Dr. Pabla's comprehensive knowledge, meticulous feedback regarding my condition, and professionalism. I believe that my allergy situation will ameliorate dramatically under his guidance. Thank you, Dr. Pabla!

I can't say enough good things about Dr Pabla and his staff. They are very kind and caring and professional. Dr Pabla's knowledge and sincere desire to get to the root of problems and not just treat symptoms is uncommon and unsurpassed. He has helped our family and friends deal with challenging health issues and his manner is engaging, caring and supportive. I highly recommend Dr Pabla and his staff!

I've never had a doctor before who has such a vast knowledge of the human body and actually applies it all in his practice by looking at my collective symptoms (not just where it hurts) and the whole body to determine what the root cause is. I've never had a doctor that personally calls me on a Saturday evening after receiving my request for an appointment to learn more about my condition. I've never had a doctor whose standard practice is to review my entire medical history and all of my symptoms for 6 hours to come up with a plan before my appointment. I've never had a doctor who then spends two hours with me systematically going through each group of symptoms and how he intends to help me eliminate them.
Functional Aesthetic Services & Skincare News
January 19, 2023
Bourbon is a well-known spirit with a rich, nuanced flavor and a smooth finish. But did you know it also has some surprising skin benefits? That's […]
September 29, 2022
Don't let acne scars hold you back. Millions of people live every day with reminders of painful acne. Most of them still believe there is nothing […]
May 25, 2022
Shaving may be a chore for men, especially when nicks, razor burns, and ingrown hairs are involved. So why do we put ourselves through it? Laser […]