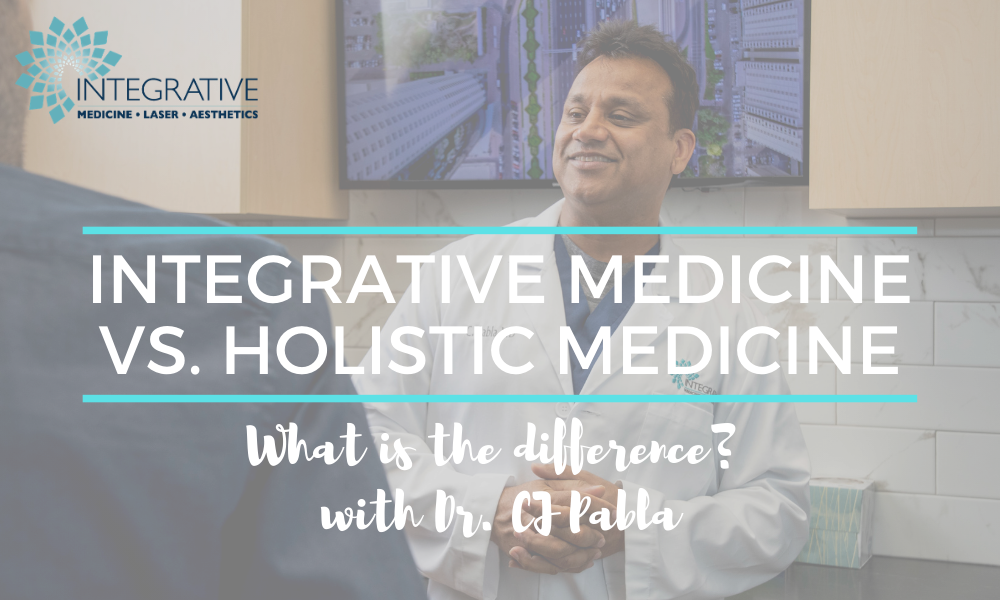 Integrative vs. Holistic Medicine with Dr. CJ Pabla
April 10, 2020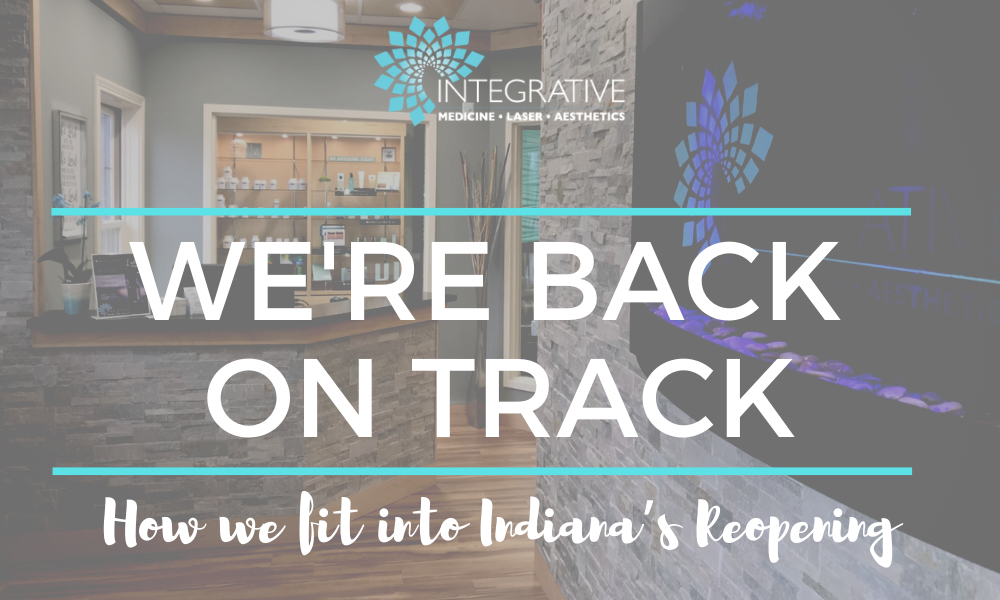 How We Fit into Indiana's Back on Track Plan
May 6, 2020
All About Retinol with Dr.Jason Amich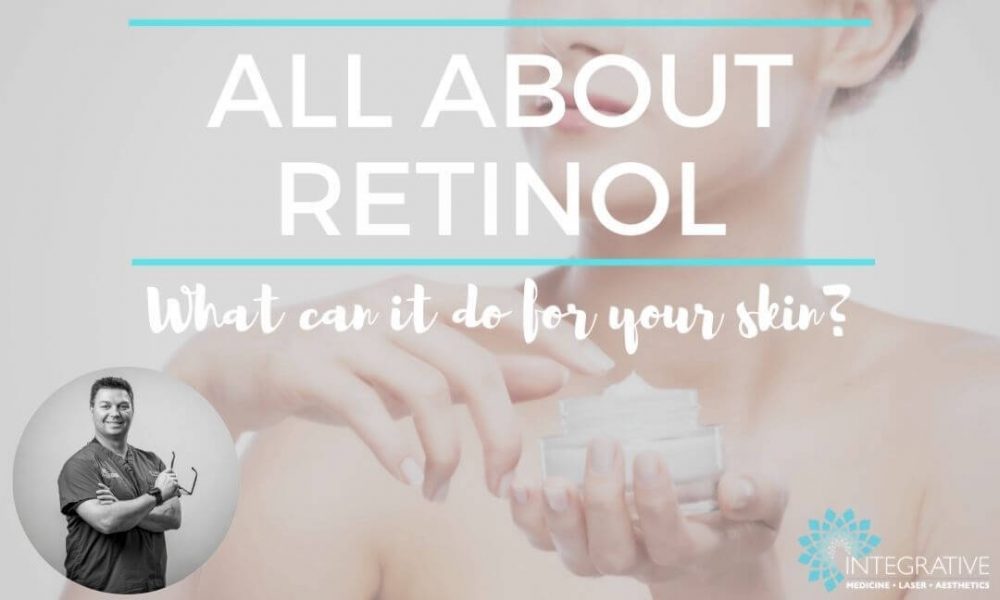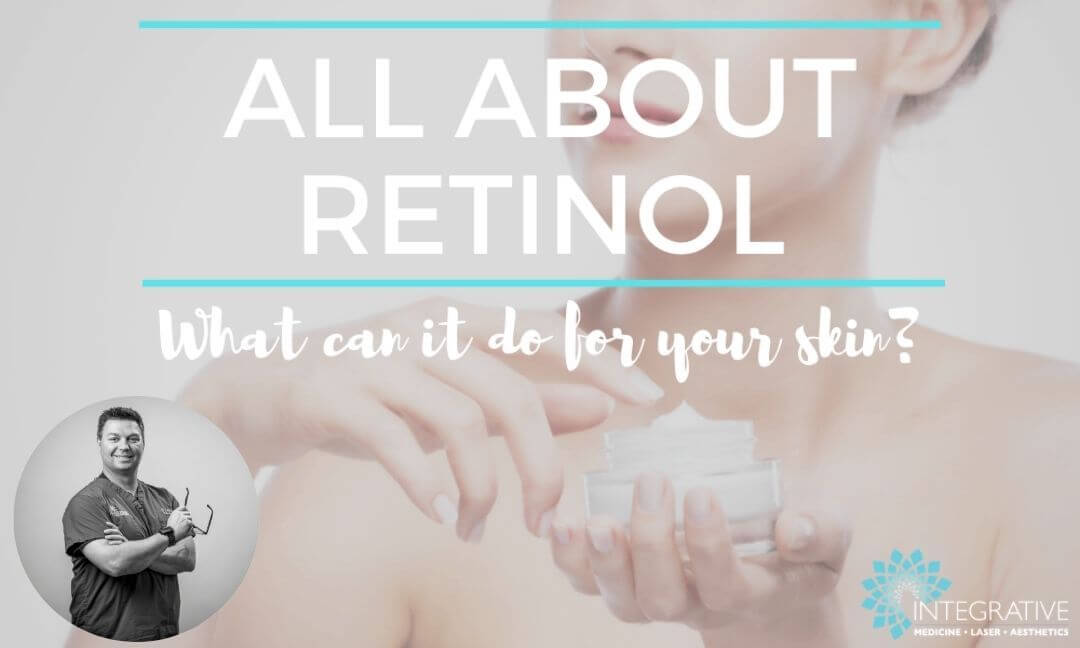 If you are looking to find an ingredient to help with anti-aging, brightening tired skin, increasing your collagen production and hyaluronic acid levels, let me introduce you to Retinol. Vitamin A comes to us in many forms, but our skin can only understand and communicate with a specific form called retinoic acid, which comes in different product formulations and strengths.
Forms of Retinol
Starting with the most gentle form, Retinol Palmitate goes through many conversions before converting into Retinoic Acid. It is left in a slow-acting and weaker form. This form is most common in drug store brands.
Next in strength would be Retinol, also needing to go through a few conversions before making its way into Retinoic Acid, which works great for someone with less tolerant skin or who does not want much skin reaction. This form is also great for hyperpigmentation, deeper wrinkles or someone who wants to start retinol as a preventative step.
The next step up is our Retinaldehyde. This form converts directly into Retinoic Acid and can cause more of an anticipated reaction until the skin slowly accommodates.
Finally we have Tretinoin, or Retinoic Acid, which does not need to do any converting to be able to communicate with the cell. Retinoic Acid has the capabilities to communicate with almost any epithelial cells and tell them to behave like a healthy, new skin cell. It is known for interrupting free radical damage (UV or sun damage), increasing our skin's ability to produce collagen and acne-fighting properties.
Our Retinol Products
Our ZO skincare line has some really great products containing retinol. There truly is something for everyone! In each of our retinol-consisting products, there are also ingredients included to help combat the irritations that come along with using most forms of vitamin A. In addition, they have different delivery systems specific to their retinol products.
Wrinkle and Texture Repair is .5% retinol and uses their ZPRO technology, which is an exclusive antioxidant and biomemetic protein complex. This product is great for upregulating hyaluronic acid levels and protects against collagen degradation by working mostly in the dermis. It also uses their micro emulsion delivery system which means this product is going to be absorbed rapidly through "oil-in-water droplets." This is where some is absorbed in the epidermis, but those smaller emulsions are then headed to the dermis where they are better absorbed.
Radical night repair is great for fine lines and wrinkles, hyperpigmentation, pore size and skin tightening effects. This product has been called "skin tight in a tube." This product comes to us with 1% retinol and due to the delivery system this uses, most patients will need to start out slowly before being able to use it nightly.
Less is More
The oleosome delivery system of our Radical night repair product uses the "less is more" approach. This allows small amounts of the retinol to be delivered continuously over a long period of time. The retinol is also encapsulated by a protein and phospholipid membrane, not allowing all of the oleosomes to release at once. This ensures a controlled delivery of retinol to the epidermis, resulting in more anticipated skin reactions.
Refissa is our .5% tretinoin cream. This is the retinoic acid form mentioned earlier. Patients with acne, severely hyperpigmented or Rosacea would benefit most from this product. Due to its potency, it is not recommended to stay on this form of retinol for too long. Most patients would be using this product anywhere from 8-12 weeks, then switch to a more tolerable form of retinol.
This tretinoin cream formulation is an emollient basem which makes it easier for patients to use it as often as we recommend. Tret, for short, helps restore our skin's natural barrier function and increase our ability to stay hydrated.
Lastly, we have retinol skin brightener. This product comes in .25%, .5% and 1% retinol combined with a stable form of vitamin C in addition to vitamin E. This product is great for those who are needing a break from their Refissa or Hydroquinone products.
Anticipated Reactions
As I've mentioned, with retinol products, we know that the skin will definitely react. That reaction is what we want, though. Dr. Zein Obagi, founder of the ZO skincare line, says, "No reaction means no repair means no results."
Some of the anticipated reactions could include redness, swelling, itching, flaking, dryness and burning. Patients can expect at least a few of these, but they will be short lived. The skin does eventually learn how to respond to retinoids in a less irritating way.
We also offer a product that helps patients get through any harsher reactions. Our Hydrating crème is a great way to help your skin while you are adjusting to any of the retinols. Hydrating crème helps with DNA repair while assisting with inflammation and redness. This can be applied after the retinol product has been absorbed or even mixed if the patient needs it to be slightly diluted.
Any skin type can and should use retinol, with the exception of pregnant or breastfeeding individuals. It has so many great properties and benefits, it's no wonder it is a skincare routine staple worldwide. If you would like to schedule an in-person or video skincare consultation to discuss a personalized skincare plan including retinol, contact our office today!